At the beginning of each new year, we often reflect on what we intend to do better this time around — whether it's working out harder, being a better friend or limiting ourselves to eating just one jar of Cookie Butter in one sitting. However, a new year should also include taking new risks, which is why we've put together a list of beauty trends you should absolutely try this year.
1. Ecaille Hair
Since the ombré fad never ends, it must eventually evolve. Ecaille is sort of like the most subtle ombré ever. You've probably seen this look on models like Cara Delevingne and Gisele Bundchen, but never knew how to describe it to your stylist. There are no streaks or visible highlights involved, just a soft gradient for a sun-kissed look. Hopefully this will weed out the more atrocious "I just dip-dyed my hair in bleach" looks that scarred us so terribly in the past.
2. Negative Space Nails
This trend sounds counterintuitive, but it's super fun and modern. This nail look involves leaving areas of your nails with no color to create mod designs that are clean and chic. For example, try a bare nail with just a clear coat and a pop of color at your cuticle in a half-moon shape. Or create "cut out" designs in the center with your polish surrounding it. Whatever you choose, I'm sure there'll be 500 tutorials about it on Instagram.
3. Mink Lashes
You don't always need to pack on a ton of eyeshadow to get impactful eyes. Some of the sexiest looks we've seen lately feature just some neutral shadow, winged liner and fluttery lashes that are the focal point of the look. Especially since the false eyelash market is booming with new brands and there's pretty much every length/shape out there now, you're bound to find a lash style that you love. Try eyelashes made out of mink hairs, which look more real and last for 20+ uses, so you won't have to buy so many pairs. They're cruelty-free, don't worry!
4. Korean Beauty Products
Ever since the American beauty market became infatuated by BB Creams and everyone was really confused as to what BB even stood for, Korean products have become steadily more popular. From innovative lip stains to creepy sheet masks, there's always something fun to try from these cosmetic geniuses. There are even e-commerce sites like Sokoglam that solely focus on  making Korean beauty products available to ladies all over the globe.
5. Natural Makeup:
This year, give your face a damn break and do less. Makeup featuring more neutral, blended tones is taking precedence over the more obvious looks that were once popular. I haven't used a black eyeshadow in years, yet I can still accomplish a sultry evening look. Just take a gander at early photos of Kim Kardashian with her signature silver and black smokey eye, which is like visual nails on a chalkboard for me, versus the more minimal and flattering makeup she wears now. Switch out intense eyeshadow for warm browns, golds, blush pinks, and taupes.
---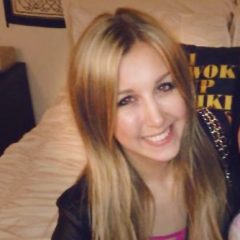 Sara is a student at The George Washington University. She loves sharing her need-to-know beauty and fashion tips, and thinks everything should come in leather. She can't live without NARS bronzer, Voluspa candles or her four cats.
All author posts