Once the holiday season (and this pending  East Coast blizzard) is over , I'm 1000% done with winter. It's just absolutely atrocious.
Don't get me wrong, I get excited about snow…from the comfort of central heating, for 20 minutes, until I have to go walk places in it.
Yet the one thing that keeps me going is winter fashion. Layering sweaters and scarves and pairing it with leather boots makes me freaking giddy. This season's trends were particularly fun for winter fashion. Try these 5 picks while you still can:
1. Wool Overcoats
Overcoats should absolutely be a staple for your winter wardrobe this season. They add an air of sophistication to any look, instead of looking like the Michelin mummy in a big puffer. A wool overcoat will actually keep you warmer than a puffer jacket would anyway (to all the owners of those $900 Canada Goose puffer coats– sorry to burst your bubble). An overcoat also picks up where traditional winter coats lack with versatility. You can wear it with a regular outfit, but also with a dress and heels at night. This one from BB Dakota adds a modern flair with the leather lapel, for only $127.
2. Thigh High Boots
While ankle and motorcycle boots were once dominating cold weather footwear, boot styles seem to be getting taller and taller. For a sexy and chic look, try a pair of over-the-knee boots with jeans or leggings ( pair it with your wool overcoat for extra points). But beware, don't go for an all-leather look with these babies. Otherwise, you'll end up looking like a cast reject from "Sons of Anarchy." Try these Jeffrey Campbells ($250) for a seriously svelte look.
3. Turtlenecks
Turtlenecks probably give you flashbacks to awkward childhood outfits that your mom forced you to wear. But trust us– they're making a huge comeback. For a modern take on a classic look, go for a turtleneck that's big, slouchy and luxurious. That way it won't look like you're wearing ski clothes.  Also, cropped turtlenecks look great with leather pants  or a skirt and paired with heels or booties for a night out. Try this drop shoulder, slouchy pick from Joie ($368).
4. Leather Duster Sweaters
Leather anything is on point right now, but a trend we've been seeing everywhere and loving are sweaters that have leather detail. This trend is usually seen with drape cardigans, where the sleeves are leather and the lapels are fabric or vice versa. Adding one of these to the most plain shirt-and-jeans combo will instantly add style and take it up a notch. Snag this one from Nordstrom ($299), which features cashmere sweater material with a leather sleeve contrast.
5. Fur Collars and Stoles
To dress up any sweater or jacket, try adding a pop of faux fur. You can add a fur collar to any jacket or sweater to add something different, or try a stole for a fancier look. A stole can also give you a more understated bit of fur, rather than going all out with a vest or coat. Try this Mongolian faux fur colorblock snood/collar from  Boohoo to add fun texture and a luxurious feel to any outfit.
---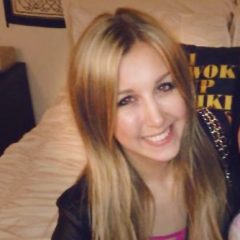 Sara is a student at The George Washington University. She loves sharing her need-to-know beauty and fashion tips, and thinks everything should come in leather. She can't live without NARS bronzer, Voluspa candles or her four cats.
All author posts