What would fashion week be without all of the buzz that follows it? We picked out our favorite trends from this season's shows, which were pretty damn hot.
This year, '70s and western moods were  all over the runways, supplying a warm and cozy feel despite the frigid temps outdoors. The attendee's lust for luxe, colorful furs to cure the winter blues was more than satisfied in shows Altuzarra, Reem Acra, Proenza Schouler, and just about everything else.
In addition to fur, texture was continuously played up in the form of fringe, especially in skirts  seen at the BCBG Maxazria show and boots on the Rebecca Minkoff runway. This added to the serious '70s vibes we were getting.
And of course another timeless staple, turtlenecks, were included in countless shows like Ryan Roche and Zimmermann, always paired with a long, chic duster coat. We've said it before and we'll say it again: turtlenecks aren't just your granny's favorite sweater. They're chic af, okay?
Karen Walker and Joie perpetuated the decade throwbacks with outfits featuring wild prints and knee-high boots, like a modern go-go dancer (but hotter). Along with canary yellow jackets from designers like Michael Kors, this season's runways were seriously eye-catching, and surprisingly– wearable (hell yes!).
Rachel Zoe took inspiration from another decade, the '60s, for a collection that was quintessentially mod and twiggy-esque. Zoe stresses how she wants her look to be "effortlessly cool," but not "unattainable." Her presentation had elegant jumpsuits (a one-step fashion staple) with pops of fur to add an heir of luxury.  Jackets and capes with big gold buttons and over-sized buckles in tweed prints gave a classic '60s London feel–a big jump away from her typically boho aesthetic.
Lastly, and perhaps our favorite, was Ralph Lauren. His fall collection was a wearable take on '70s-inspired fashion, with fur–again–as a standard accessory in the form of statement coats and shearling capelets. The coveted accessories of this line were western-style floppy hats, giving a cowgirl-meets-hippie vibe that we couldn't get enough of. Chunky cableknit turtlenecks and fringe scarves paired with cowhide bags, all in neutral tones, made for a rugged elegance that was very Americana.
The overarching theme we're sensing for Fall 2015 is cozy elegance. We're all about this, because who doesn't want to be bundled up in luxurious layers while still looking like a sex kitten?? Closet staples are a turtleneck, blanket scarf and wool coat. If you're feeling ballsy, pair it with a western hat and a pop of color to contrast with all the neutrals.
'60s and '70s trends are a no-brainer, so there's good news for all those one-time Coachella outfits you've splurged on (hello again, $200 bell bottoms). Maybe looking like a trust fund hippie isn't so shameful after all. Karen Walker would probably agree.
---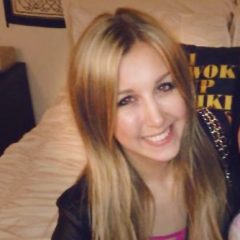 Sara is a student at The George Washington University. She loves sharing her need-to-know beauty and fashion tips, and thinks everything should come in leather. She can't live without NARS bronzer, Voluspa candles or her four cats.
All author posts