Just like shoes, we can never have too many handbags.  They're extremely versatile and can easily be switched to fit any situation or outfit.
Here are four essential styles for everyday situations that will ensure you're never left wondering which bag you should carry.

Going out: The Clutch
For a night out on the town with the girls, you can get away with a teeny tiny purse. One of the best options is a rock a boxy clutch. This  Cooperative Gloss glittery, art deco-inspired version is just big enough to fit your keys, credit card, phone and lipstick. It will add a chic, modern vibe to any look.
Work: The Satchel
Not quite a briefcase, not quite a purse, this structured bag is the perfect complement to your pantsuit and button down. Show your co-workers who the real boss is with this 3.1 Phillip Lim crackled leather version made of sharkskin.

Daytime: The Hobo
Whether you are running errands or just walking around the town, a roomy shoulder bag is ideal for any daytime occasion. This slouchy hobo version by Marc Jacobs will fit your umbrella, wallet, water bottle and so much more. The black color will coordinate with your wardrobe, while the gold hardware adds a sleek, sophisticated touch.
Weekend getaway: The Duffle
Headed on an overnight trip? Then a duffle bag by Stella 9 is a no-brainer. A colorful, embroidered tote is extremely punchy compared to its cliché canvas counterparts.
---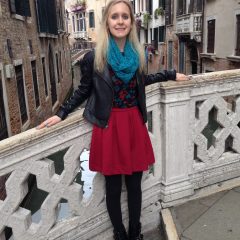 Hayley Lind is a rising senior at Philadelphia University with a major in Fashion Industry Management and a minor in Professional Communication. She currently serves as the blog co-editor for her college's fashion publication, Styleline. She hopes to one day write for a fashion magazine in New York City. Hayley is currently obsessed with outdoor yoga, thrift store shopping, and avocados.
All author posts