Let's be real: if you're like most men, you probably dread Valentine's Day—especially if you have a Valentine. It is the one time of year that you have to be cheesy and romantic and find the perfect gift for your GF.   If you don't know what to get your girl this year, skip the flowers and chocolate and opt for something more original that shows that you put some effort in making Valentine's day special. These five creative options, that don't cost a fortune, are bound to satisfy your special someone.
Floral perfume. Nothing says I love you like a pretty, feminine fragrance. Treat your gal to the sweet and innocent Marc Jacobs Daisy or the more sensual Chloe Love Story, inspired by flowers used in wedding bouquets.
Book a relaxing day at the spa. Massages and facials are something that every girl wants, but never wants to spend the money on. Book a couples massage with your honey or give her a few days to rejuvenate at the spa. Relaxation will lead to romance.
Watch that rom-com movie with your girl—and actually pay attention. Even if you aren't a sap, this is the one time out of the year to get romantic. Put on a movie marathon with your girlfriend's favorite movies (cue "Say Anything"  and "500 Days of Summer"), and get ready to hold her when she cries during her favorite scenes. All you need are a box of tissues and a bag of popcorn.
Make her a mixed CD. This might be a cinematic cliché, but any girl would like a CD made especially for her. Make her a creative playlist of your favorite love songs, and DIY your own album artwork to go along with it. Michael Cera will be proud.
A romantic, candlelit dinner. Can't afford that five-star restaurant? Cook your lady a fancy meal—perhaps steak or lobster. Be sure to use your best China (or borrow your mother's!) and make a chocolatey dessert. Trust me, your girl will swoon.
Not sure what or how to cook? Try plated.
---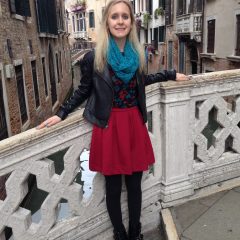 Hayley Lind is a rising senior at Philadelphia University with a major in Fashion Industry Management and a minor in Professional Communication. She currently serves as the blog co-editor for her college's fashion publication, Styleline. She hopes to one day write for a fashion magazine in New York City. Hayley is currently obsessed with outdoor yoga, thrift store shopping, and avocados.
All author posts