There are only a few days left until Valentine's Day, and whether you have exciting plans for a romantic night with the beau, or if you intend to stay in and watch your favorite rom-com, there is one thing every girl has on her mind – the outfit. Don't panic, we've got you covered. Here are six options that will ensure you're looking lovely for your date.
PINK AND RED
For years, this has been the combination saved for the fashion risk takers, but not anymore! Pink and red is so easy to do, the only trick is to be aware of the saturation. If you're going to rock this colour duo, you need to go bright and  bold and stay away from the light pinks with the dark reds. Be prepared to make a statement, and remember, less is always more.
Pink and Red Picks Under $50
MIDI SKIRT
Nothing screams modern day princess (or fashion editor) more than a midi skirt. In any material, in any colour, a midi skirt will make you feel like Cinderella and will definitely impress your Prince Charming. Pair it with a crop top for a sexy vibe or keep it subtle with a loose tank, tucked in.
Midi Skirt Picks Under $50
BRIGHT LIP
If you'd rather take a risk with your makeup instead of your outfit, try a bold, bright lip. Go classic with a cherry red or spice it up with hot pink. If you're not as daring, try a gloss to give a subtle colour. Whatever you choose, make sure to wear it with confidence. Some advice for red lips? Rimmel Kate 107 is a great choice.
Lipstick Picks Under $50
JUMPSUIT
Definitely not everyone's cup of tea, but jumpsuits are the great alternative to dresses and skirts on date night. They give the illusion of more formal attire, without having to pull out tights on a colder evening.  If you're looking for a bit of comfort with a fashion forward feel, the jumpsuit is your best option.
Jumpsuit Picks Under $50
ROSE GOLD
What colour jewelry could be more appropriate for Valentine's Day? Rose gold jewelry has become a favourite for every fashionista and gives off such a romantic vibe. A statement necklace or even simple studs could be the perfect finishing touch to any date night outfit. Whether wearing or receiving, rose gold will make any girl smile on Saturday.
Rose Gold Picks Under $50
STAY GIRLY
For those choosing to stay in with their loved one while indulging in snacks and a film, there is still a way for you to dress up. Head to the sleepwear stores and stock up on some very girly loungewear. If lingerie is not your style, try a silk nightgown or a lace camisole to spice up the coziest of movie nights. There's no reason why you can't feel beautiful, too!
Loungewear Picks Under $50
Valentine's Day is a great excuse to get all dolled up and feel beautiful. No matter what you're planning for this weekend, make sure to wear something that makes you feel comfortable, beautiful and always complete your ensemble with your biggest smile. Then, you're sure to have the best time.
---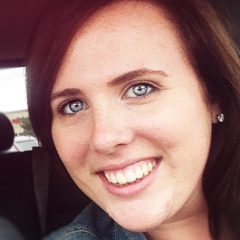 Kate Lutes is a senior at St. Thomas University with a double major in English and Communications and a minor in Sociology. She currently works as the Social Media Assistant for P.I.N.K. Publicity and after graduation hopes to break into the fashion world. Kate is currently obsessed with Sam Smith, rose gold, chai lattes and all things Topshop.
All author posts