Forget pattern mixing, makeup that takes you hours to perfect or hundred dollar facials. Looking fabulous no longer means looking as if you've spent hours on your hair. With Beyonce's new catchphrase "I Woke Up Like This," everyone is looking for the quickest and best ways to start their day.
So, here are our top tips for looking effortless.

STEP ONE: Moisturize
This step can be completed either the night before or early in the morning. With a clean face and hands, hydrate your skin with a moisturizer of your choice. During the night, or throughout the morning, it will sink in and leave you with a flawless glow.
DON'T FORGET: to include your lips! Using lip balm can prevent cracking or peeling throughout the day.
Kate Somerville 'Nourish' Daily Moisturizer
Fresh Seaberry Moisturizing Face Oil

STEP TWO: Makeup
Looking effortless means putting aside the liquid eyeliner and full Kardashian-esque coverage foundation. Instead, opt for some concealer for under eye circles and unwanted spots. To finish off, add some blush to give you a flushed tones and open up your eyes with a coat of mascara. If necessary, reapply your lip balm and you are ready to go.
Urban Decay 'Naked Skin' Weightless Complete Coverage Concealer
Marc Jacobs Beauty Lash Lifter – Gel Definition Mascara
Smashbox 'O-GLOW' Intuitive Cheek Color with Goji Berry-C Complex
Rosebud Perfume Co. Smith's Minted Rose Lip Balm

STEP THREE: Stick to Basics
Now it's time to pick out your clothes. When wanting to look effortless, it is best to stick to your basics. Jeans or leggings make a great base. Adding a comfy sweater, a button up shirt or a graphic tee will give you a fashion forward look with no fuss. Shoes are the easy part. Avoid heels and slip on a pair of converse or cute boots to complete the look.
Tshirt: T by Alexander Wang Classic Muscle jersey T-shirt
Jeans: Marble-Effect Distressed Skinny Jeans Black
Shoes: LD Tuttle Ash Geometric Ankle Boots

STEP FOUR: Accessorize
Of course, effortless still means standing out. Ditch the bulky statement pieces and keep the sparkle to a minimum.  Go for delicate pieces and focus more on gold, silver or even the trendy rose gold. A simple pendant necklace or metal studs will add the special touch that your outfit needs. If jewelry isn't your thing, try a beanie or a scarf, but remember to keep the colour and pattern to a minimum.
DON'T FORGET: you are trying to look effortless. Stick to one piece of jewelry or one accessory instead of mixing.
Isabel Marant Gold-plated horn necklace
Bing Bang "Vivienne" Yellow Gold Stud Earrings
Labour Of Love Black leather skinny belt

STEP FIVE: Rock the Bedhead
When it comes to your hair, embrace the mess. Substitute a brush for finger combing or add a few curls to make it look intentional and time consuming. If you're just not feeling the frizz, throw your locks up into a topknot and let pieces fall where they may. Regardless, don't spend more than five minutes messing with it, the tousled, just rolled out of bed look will always be in.
DON'T FORGET: adding sea salt spray or a bit of dry shampoo can help with texture and volume.
OGX Moroccan Sea Salt Spray
John Masters Organics – Sea Mist Sea Salt Spray with Lavender – 9 oz.
Truth is, there is one  essential rule when it comes to looking effortless, and it's this:
Do not try too hard.
Your goal is to look like you rolled out of bed gorgeous, but slightly flawed. Strands of hair, a slightly bare face and simple clothing are musts. If you follow these simple steps, adding your own touches along the way, you are sure to look just as beautiful as Queen Bey herself.
---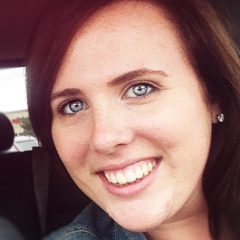 Kate Lutes is a senior at St. Thomas University with a double major in English and Communications and a minor in Sociology. She currently works as the Social Media Assistant for P.I.N.K. Publicity and after graduation hopes to break into the fashion world. Kate is currently obsessed with Sam Smith, rose gold, chai lattes and all things Topshop.
All author posts