The New Year always signifies a time of rebirth, whether you are looking to improve your mind, body, or more importantly, your wardrobe.
As we are bombarded with new "it" trends and predictions for 2015, we should also be on the lookout for emerging designers.
With their unique aesthetics and evident talent, these five designers are sure to blow up in 2015.
Polish-American designer, Litke, focuses on updating classic pieces in an innovative, yet wearable way. Her latest collection takes feminine fabrics such as gingham and textures such as eyelet and ruffles to a whole new level by playing with proportions and mixing different textures and prints. Delicate white pieces with hits of red and baby blue give the clothing an easy, breezy nature.
Phoebe English is a London-based designer with a strong talent in finishing and garment construction. Her conceptual aesthetic is demonstrated through carefully draped pieces that skim the body in a flattering manner. Pencil skirts and boxy tops with nipped in waists are constants in her collections. Although the clothing is often minimalist, English will top it off with avant-garde extras like transparent fence-inspired netting and textured overlays.
Faux fur line Shrimps was founded by Hannah Weiland, a former art and textiles student at the prestigious London College of Fashion. Mix 60's mod with fur, fur and more fur, and you get Weiland's playful and humorous coats. Typically striped and comprised of bright pinks and oranges, these pieces have been spotted on some of our favorite quirky fashionistas, like Susie Bubble and Alexa Chung.
Launched by Nigerian-born sisters, Darlene and Lizzy Okpo, the line combines their African heritage with American culture. Their clothing can be described as modern, urban and eclectic, just like their upbringing. Their most current collection contains humorous black and white prints on easy dresses, crop tops, and baggy, yet chic pants. Already rocked by Solange Knowles, William Okpo designs are perfect for the fashion risk-taker.
Trained by fashion houses Christian Dior and Alexander McQueen, DePaula has recently honed her whimsical, innovative viewpoint. Her collections feature hand-painted prints that resemble florals from afar, but are actually comprised of birds, ice cream cones, or clocks. These prints are then translated onto feminine, yet bohemian silhouettes such as maxi dresses, kimonos, and bell-bottoms. It is clear that De Paula has an innate talent for making the unusual and unexpected beautiful.
Whether your style is timeless, edgy, bohemian, or just plain feminine, this diverse assortment of designers has something to suit every woman's taste.
---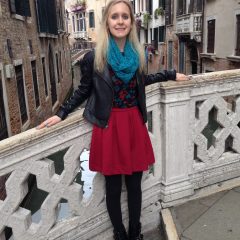 Hayley Lind is a rising senior at Philadelphia University with a major in Fashion Industry Management and a minor in Professional Communication. She currently serves as the blog co-editor for her college's fashion publication, Styleline. She hopes to one day write for a fashion magazine in New York City. Hayley is currently obsessed with outdoor yoga, thrift store shopping, and avocados.
All author posts